Chocolate mousse! Everyone's favorite. Isn't it? Combined with fresh fruit and cream as a dessert in a glass, to complete a cake or as part of a cake; with bitter chocolate, with semi-sweet chocolate, with milk or white and in various combinations, chocolate mousse is a major part of French confectionery. There is hardly anyone who will remain indifferent to him. (If there is, call me – let's talk.) In modern confectionery, it has acquired new dimensions and possibilities for combining and incorporating into desserts, and with attempts to make it easy and affordable for home cooking, its preparation has been reduced to the use of only two products – chocolate and cream.
Where is the truth and what to choose from all the options that look similar or completely different, but in the photos still appetizing? Do they make you feel confused? I understand. With or without butter, with cream or without, with what chocolate, what about these proteins? You are also afraid of raw egg yolks, but you still want to prepare and try chocolate mousse? In this article I will try to explain and offer you my best choice for essential chocolate mousse.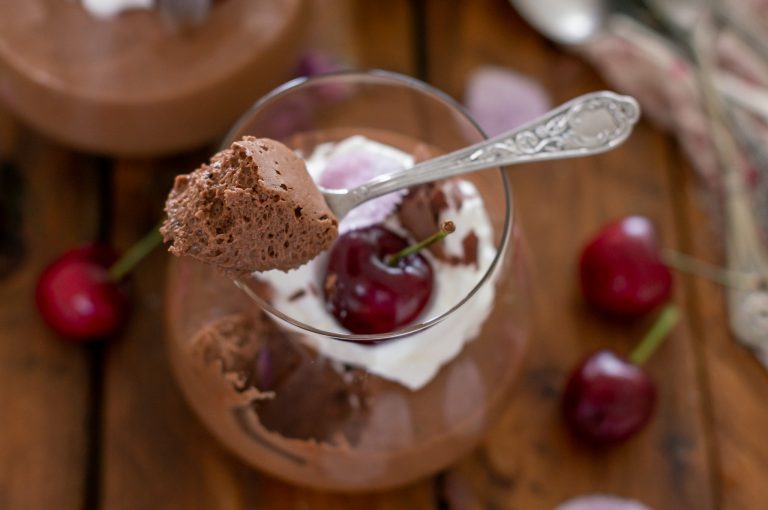 It all depends on what exactly your wishes are. What do you want to taste? What will you use the mousse for? There is no wrong recipe for mousse when the basic criteria for it are met. And here, in addition to your desire, comes the moment of your expectations. Although the topic in this post is specifically for chocolate mousse, to know exactly what to expect from it, let's look at everything from the beginning.
What is a mousse?
There are many types of mousse. They can be sweet and salty. From the sweets they can be chocolate, fruit, vanilla and many other flavors such as coffee, caramel, chocolate in combination with fruit puree. Different products and sometimes different techniques may be required for each of them, but they all have one similarity. It is the word mousse . From old French it means foam and this is exactly what should be the leading factor in the preparation of any mousse. It should have a light and aerated consistency, which when trying to cause the palate to do just that – airiness, something that does not require chewing, melts quickly on the tongue, meanwhile giving off its taste. Foam! And delicious foam!
How to make mousse?
Each mousse consists of a base to which air is added. Especially for sweet mousses, the base can be chocolate, fruit, English cream, confectionery cream and it determines the main taste of the mousse. Airiness and lightness of the base is achieved by whipping cream and / or whipped proteins. A lighter texture can also be achieved through special techniques when using yolks or whole eggs at the base of the mousse. Such techniques are:
cooking yolks, sugar and aromatic alcohol in a water bath, as in 

cream zabayon

using the pâte à bombe technique, which can be prepared in two ways – by heating whole eggs, often mixed with yolks, with sugar 

in a water bath until reaching 82ºC – 84ºC

 , after which they are beaten or 

with the addition of sugar syrup

 to them, which has reached 118ºC – 120ºC.
In these cases, heating acts as a stabilizer.
Depending on the desired effect and the application of the mousse, oil can be added to the base for more taste and density or the mousse itself can be stabilized with gelatin.
Now, however, I will tell you about the "old-fashioned" chocolate mousse, which can be achieved without much effort at home.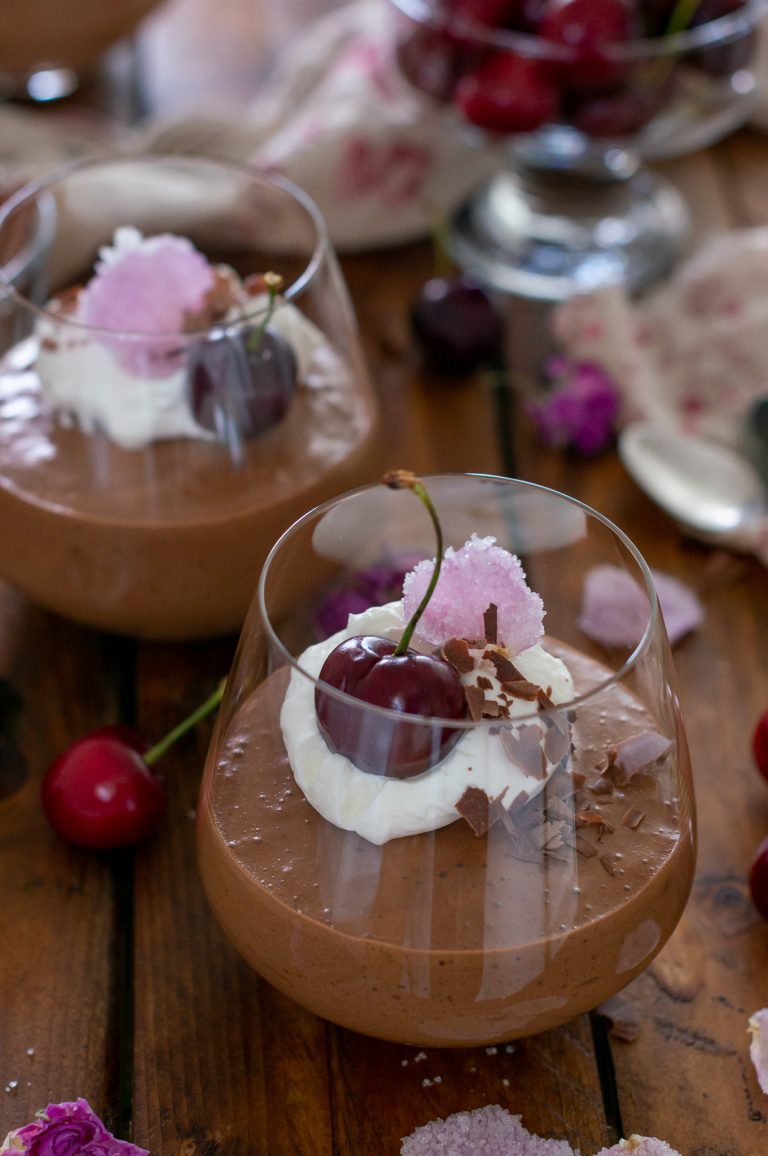 The chocolate mousse I love
You already know that there are several techniques for making chocolate mousse, and that the products for it can vary and it all depends on its density, taste and intensity. I choose a certain technique, depending on the type of chocolate I want to use and the purposes for which I will use the mousse. It can be for a cake , as part of an entremets  ( entremets ) or just as a dessert in a glass. The latter predisposes to a very light and velvety mousse, which does not need to add gelatin, but there are some specific things in it that make it the best chocolate mousse for me. Let's look at everything again in detail and in detail.
Chocolate
As for chocolate mousse, its base is of course chocolate. The taste and intensity of the chocolate mousse will depend on the type of chocolate. If I use dark chocolate with about 54% cocoa content, the mousse will have a light chocolate flavor and a lighter texture. If I use 70% dark chocolate, then the chocolate mousse will have a strong chocolate flavor and thicker. In these cases, there is no need to stabilize the mousse with gelatin, because dark chocolate tightens well when cooled. However, if milk or white chocolate is used, which contains much less cocoa and is therefore more pliable, then the mousse will need to be thickened or tightened with something, especially if it will be used for a cake.and not alone as a dessert in a glass. Due to the higher sweetness of milk and white chocolate, sugar also needs to be reduced, but in general I just choose to use other recipes for them. Now I will talk only about mousse with dark chocolate.
Butter
I like to have butter in the chocolate mousse. It not only gives it extra flavor, but also works for the density and contrast in the feel of the mousse as a whole – something very light that melts on the tongue, but spilling on it leaves an oily trail that enhances the feeling of density and taste . In other words, no matter how light the mousse, it has a rich taste. You will find different proportions of chocolate and butter in chocolate mousse recipes – the ideal for me is almost 2: 1 for chocolate. Equal amounts would be more appropriate when the mousse is used as a pastry or as part of an entreme.
Yolks
Another idea for oiliness in the airy texture of the mousse. But in addition, pre-beaten egg yolks with sugar give more creaminess and extra airiness. The yolks are not cooked like I make mayonnaise or Caesar salad dressing . If this worries you, use pasteurized yolks. These can be found in Heath and Metro. The cuts are 1 liter, which is a little more for a household, even with their 28-day shelf life after opening, but you can do something else. Distribute the residue in ice cube trays and freeze. Convenience will be if you portion 20 grams, which is equivalent to 1 egg yolk. Once frozen, store them in freezer bags and store for up to 3 months. After thawing in the refrigerator, you can use them for whatever you want.
Proteins
The most important part in a chocolate mousse, along with chocolate for him. Proteins are what make the mixture light. The air bubbles inserted into them by beating with sugar are mixed with the mousse base to make it airy. When making chocolate mousse as a dessert in a glass, I prefer to use only whipped egg whites as an aerating ingredient and leave the cream just for garnish. I prefer this because the mousse becomes really light and very slightly plastic than if I use whipped cream or even a combination of separately whipped cream and protein. In addition, the butter and yolks give enough density, but let me remind you that beaten with sugar yolks give extra volume. Beat the egg whites with sugar in a ratio of 2: 1 to prepare a thick, shiny, but moderately sweet meringue.
Proteins also do not have heat treatment, but as with yolks, pasteurized ones can be used. In addition to Heath and Metro, pasteurized proteins are also sold in larger Fantastico stores. The cuts are also 1 liter and you can proceed with the excess, as with the yolks. It is good to portion 30 grams, which is equal to 1 protein.
Fragrances
The classic says cognac and orange liqueur or peels. A few spoonfuls of espresso elevate the taste of chocolate, freshly grated orange peel makes it taste fresh, and a few roasted and crushed black peppercorns will give it spiciness and light smokyness. There are no restrictions here, it all depends on your taste and desire. You can use anything you like or have an idea to experiment with.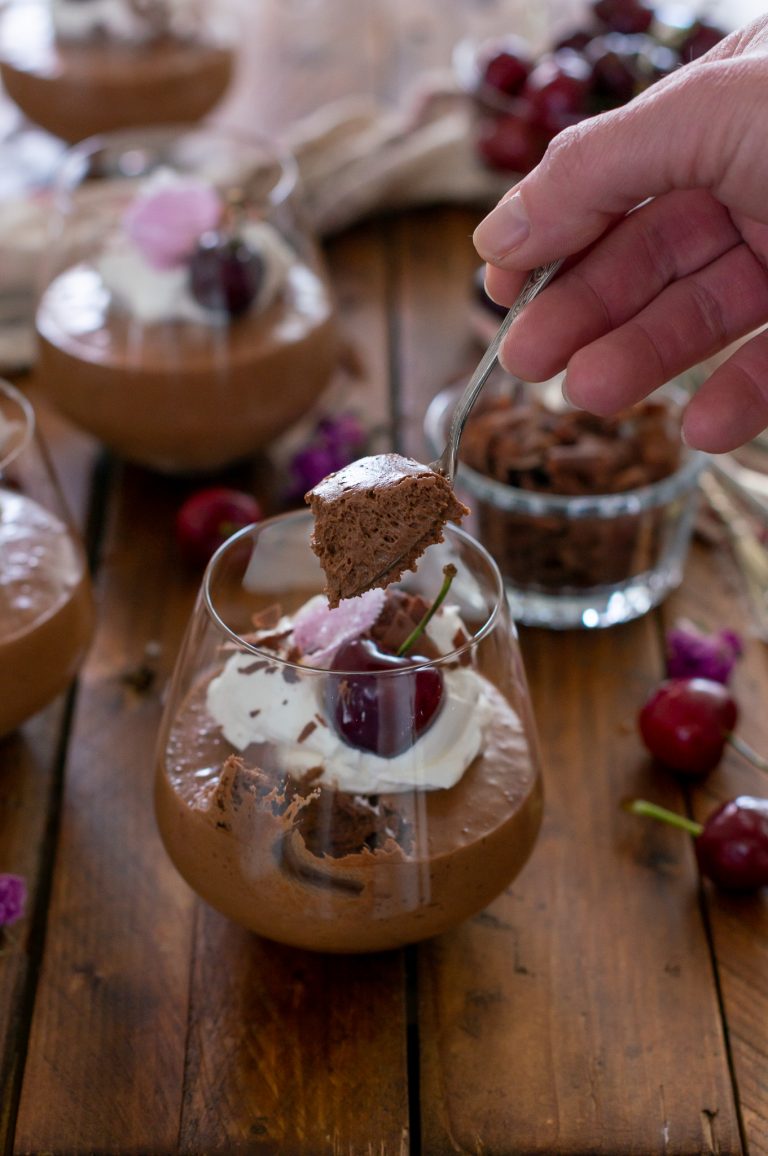 Essential chocolate mousse
This recipe is based on the recipe for chocolate mousse from Julia Child's book "The Art of French Cuisine" . As she says, "among all the recipes for chocolate mousse, this is one of the best", and from my experiments on all kinds of mousse with different techniques and proportions of products, I can not disagree with her.
However, I am making some small changes to suit my taste and expectations of a chocolate mousse. One is to reduce the total sugar in the recipe and use most of it to kill proteins (the book uses only 15 grams for 4 proteins, but I prefer a more stable meringue). The second change I make is reducing the amount of oil. In Julia Child's recipe, it is equal to the amount of chocolate. I cut it in half, because butter, like chocolate, tightens in the refrigerator, and less of it makes the mousse lighter without taking away from the good taste and density that the butter gives. A matter of goals and expectations, as I said.
In the current recipe I use cherry liqueur as aromatic alcohol in the mousse. You can choose any fragrance you like or skip it altogether. I am also adding candied rose petals from my new batch this year . Just because I adore them, they are not mandatory.
For 6 servings
Products:
180 g dark chocolate 60%

100 g butter

80 g yolks (from 4 large eggs)

50 g of fine crystal sugar for the yolks

150 g egg whites (from 4 large eggs)

80 g of fine granulated sugar for proteins

pinch of salt

15 g (1 tablespoon) cognac, brandy, dark rum, whiskey, cherry liqueur, Baileys or other aromatic alcohol, optional
The chocolate is cut into small pieces if it is from a block, if it is in pieces it is used directly. Mix the oil in a suitable water bath and place over a saucepan with barely boiling water. Stir until completely melted. They are set aside.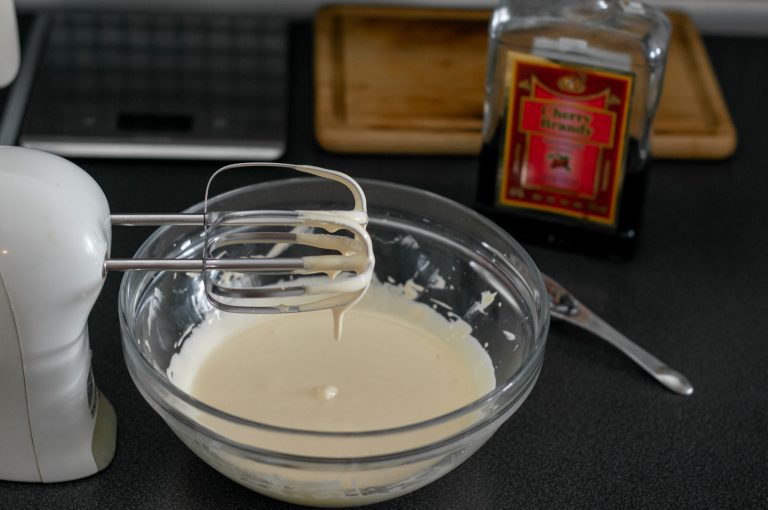 In a deep bowl, mix the yolks and sugar. Beat with a mixer until the mixture thickens and lightens. If aromatic alcohol is used, add it now and beat the mixture again with the mixer.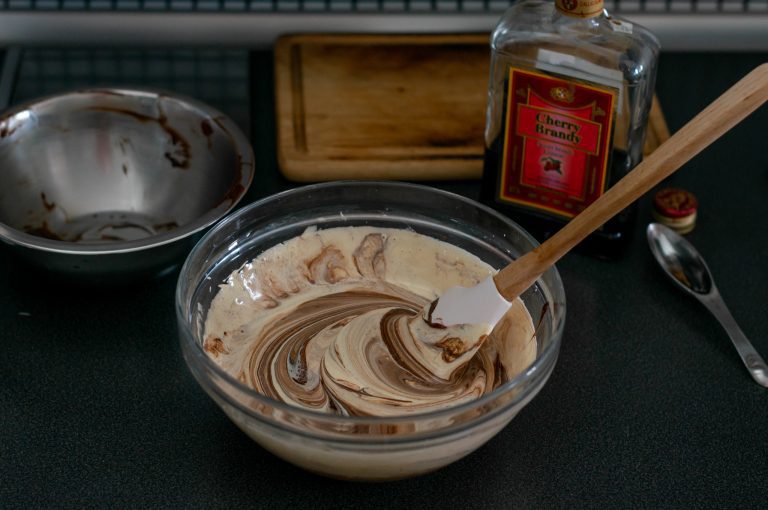 The melted chocolate and butter are added to the mixture with the yolks. Stir well until smooth and smooth.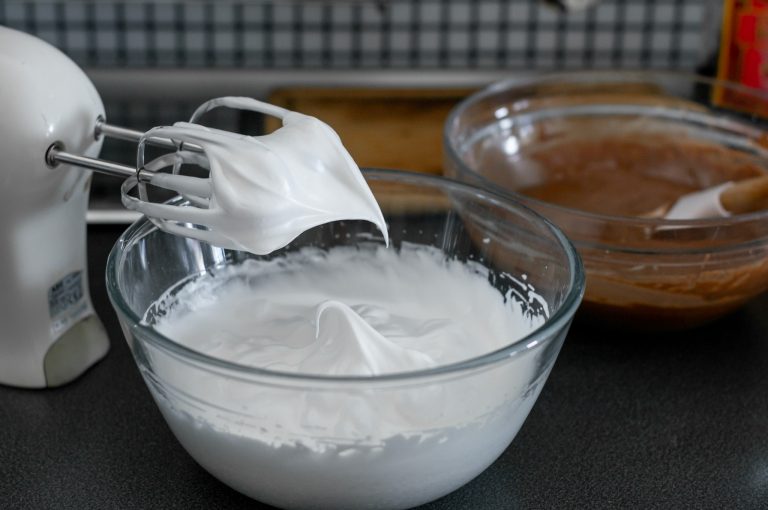 Separately in a large perfectly clean and dry bowl put the egg whites. Beat with a mixer on medium speed until they begin to form a loose foam. Then a little sugar is added to them. The beating continues until all the sugar has been added and a hard and shiny meringue is formed.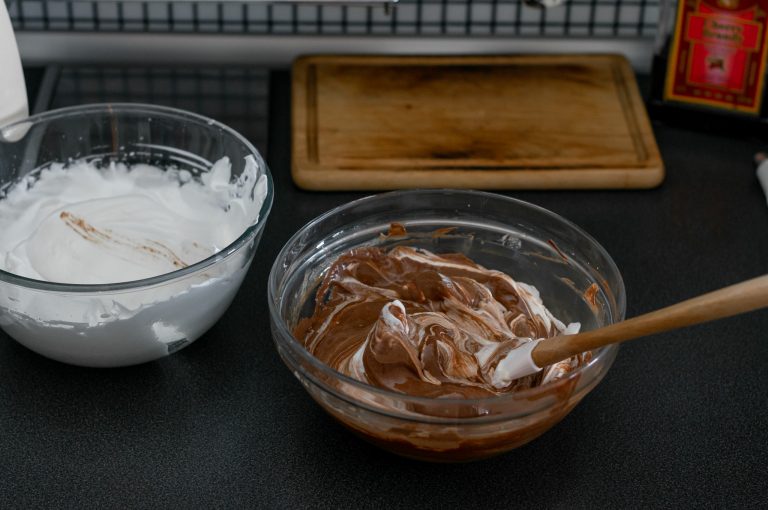 Add ме meringue to the chocolate mixture and mix gently with a silicone spatula. The movements of the spatula are with scooping to the bottom of the bowl and turning the mixture. When the mixture is homogeneous, add the remaining meringue and mix gently in the same way. The mousse should be smooth, fluffy and slightly pliable at this stage.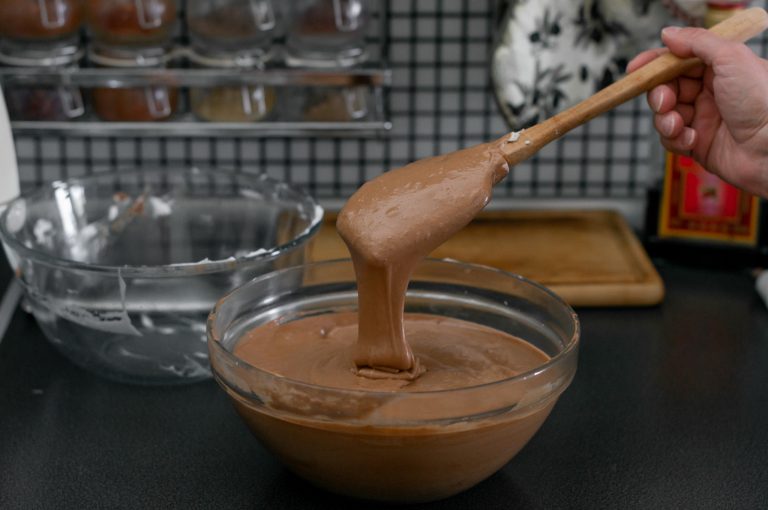 The mousse is immediately distributed in six cups or suitable bowls. Refrigerate for at least 4 hours, but it is best to prepare from the day before and refrigerate overnight. The mousse is stored covered in the refrigerator for up to 3 days if not eaten during this time.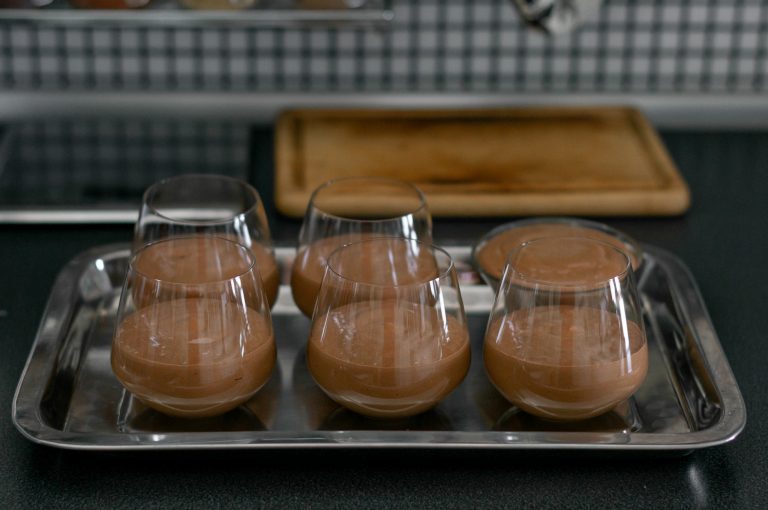 If desired, it can be served with whipped cream, fresh fruit, cookies.