If you need an idea to use Easter eggs, this recipe is just for you. No matter how many painted eggs you have, at one point a lot of crushed and uneaten eggs accumulate in the refrigerator – I guess you know this, especially when you have small children around you. They are all looking for the "beater" and until they find him, the adults have to eat most of the beaten eggs. Sometimes, even for children, everything becomes a big game, something like "I won't stop until I beat everyone with one egg" and then I can only thank myself for painting as many eggs as we can't eat in a short time. Or maybe you already know that giving them to relatives and friends is not a salvation from eating boiled eggs for ten days, because in return you get the same, and sometimes even more. Yes,
During this period, boiled eggs are most often added to green salads because they are a delicious combination, but if you really have more of them, especially as it happens for the Easter holidays, you can make them even better. Some excellent combinations are made in egg salads , which can be used not only as an appetizer but also for sandwiches. Boiled eggs can be used to prepare a main course or an appetizer in Eastern style . And they could be diversified and enriched in a very easy way, filling and garnishing with what you have.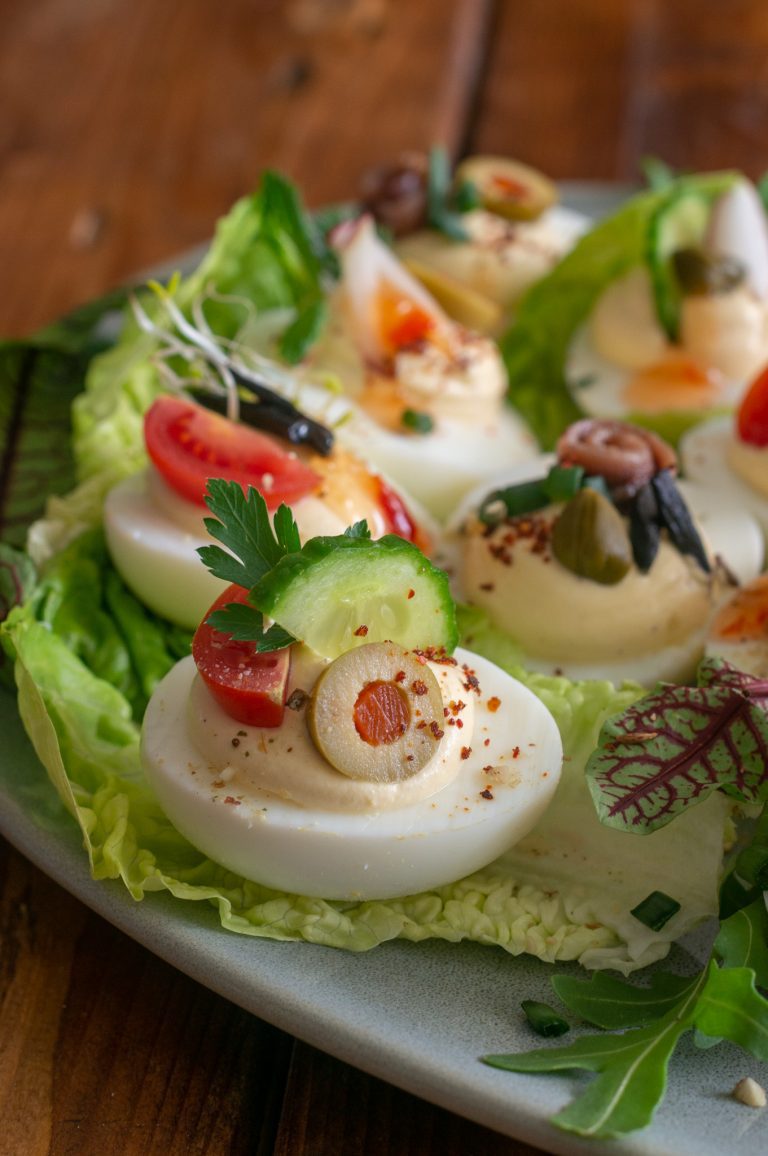 To fill them, use the separated yolks of boiled eggs, which are mixed with cream cheese, sour cream, mustard and spices. Mixing can be done by hand by rubbing the yolks with a fork and mixing well with the other products, which will make the mixture coarser or grind in a food processor, which will make it creamy. I prefer the second option because it can be easily injected into the egg whites. For this purpose I use a pastry bag with a straight round tip, but if you do not have such accessories, then a thicker plastic bag with a small incision in one of the corners will also do a great job.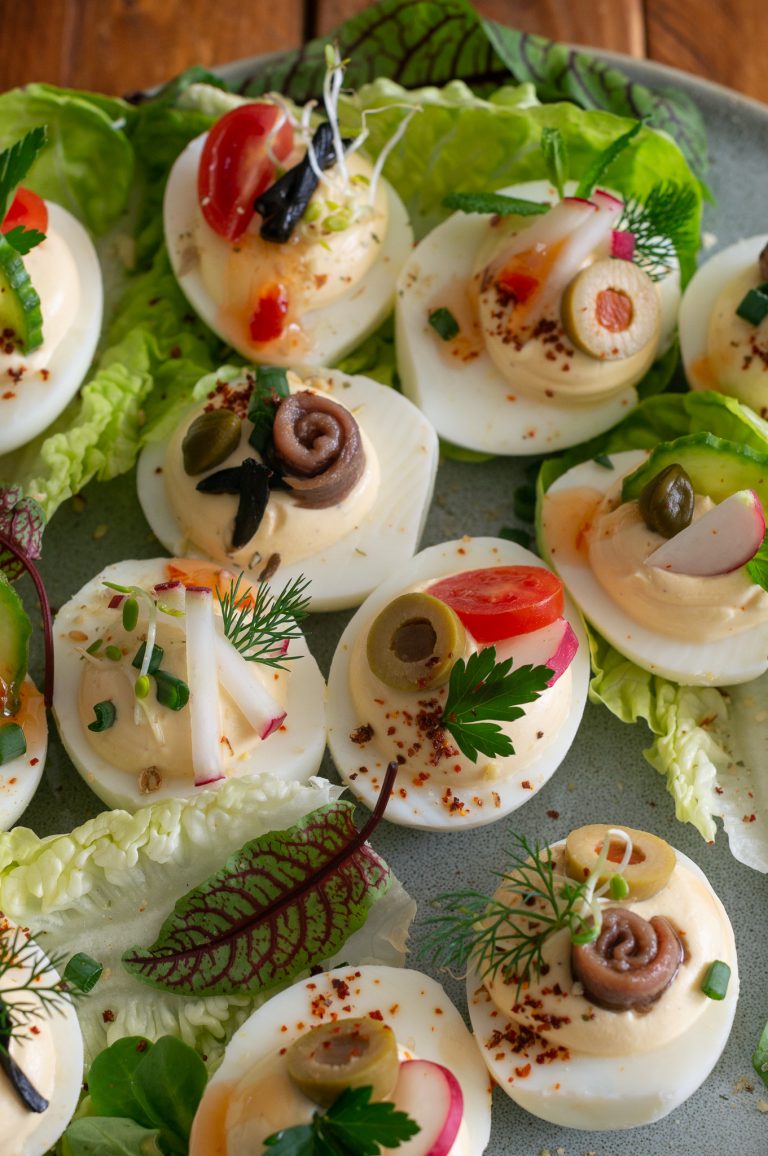 The filling could be sprayed with a "star" tip, which will make beautiful roses as a decoration, but more often I think this is unnecessary because I prefer to garnish the eggs with a combination of complementary ingredients. They can be as varied as fresh vegetables, sprouts, herbs, olives, anchovies, smoked salmon…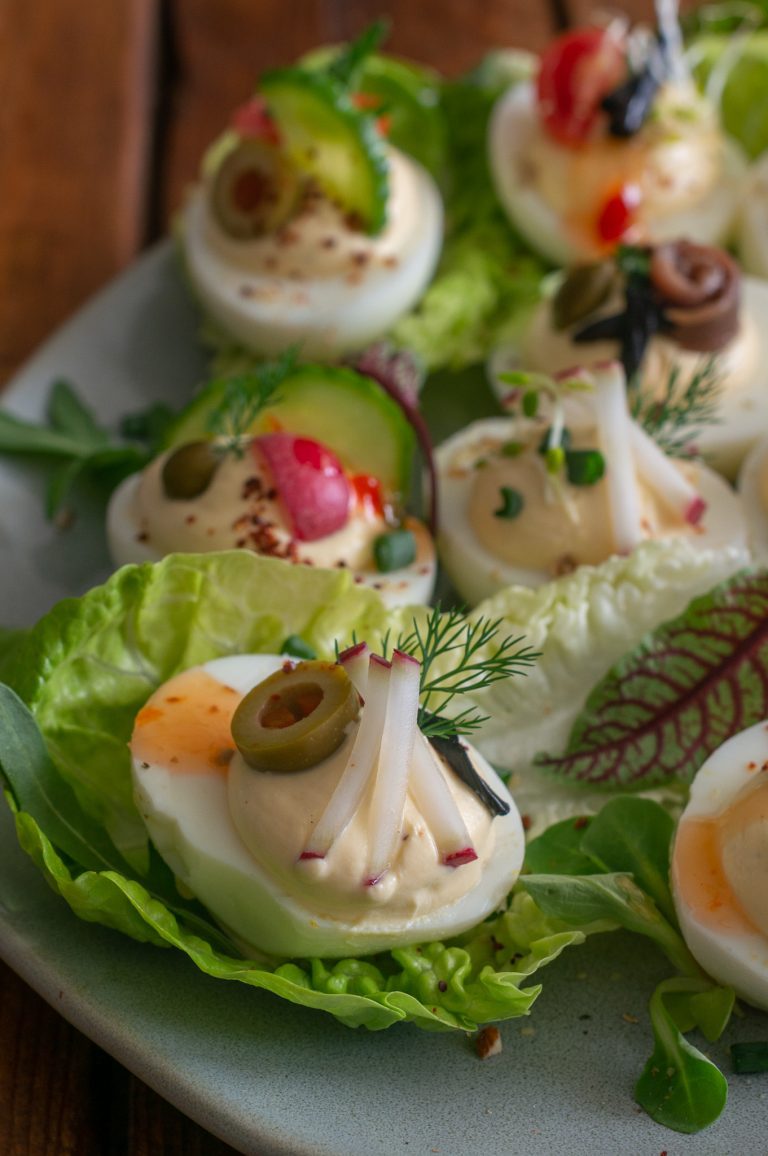 In this post, I present my idea for stuffed eggs – from the proportions of stuffing products to garnish ideas. Use what you have and you like it or improvise with your options. The filling is very tasty and light, I prefer it to most recipes that include mayonnaise and if it remains, I save it for spread on toast, for sandwiches or as a dip for vegetables.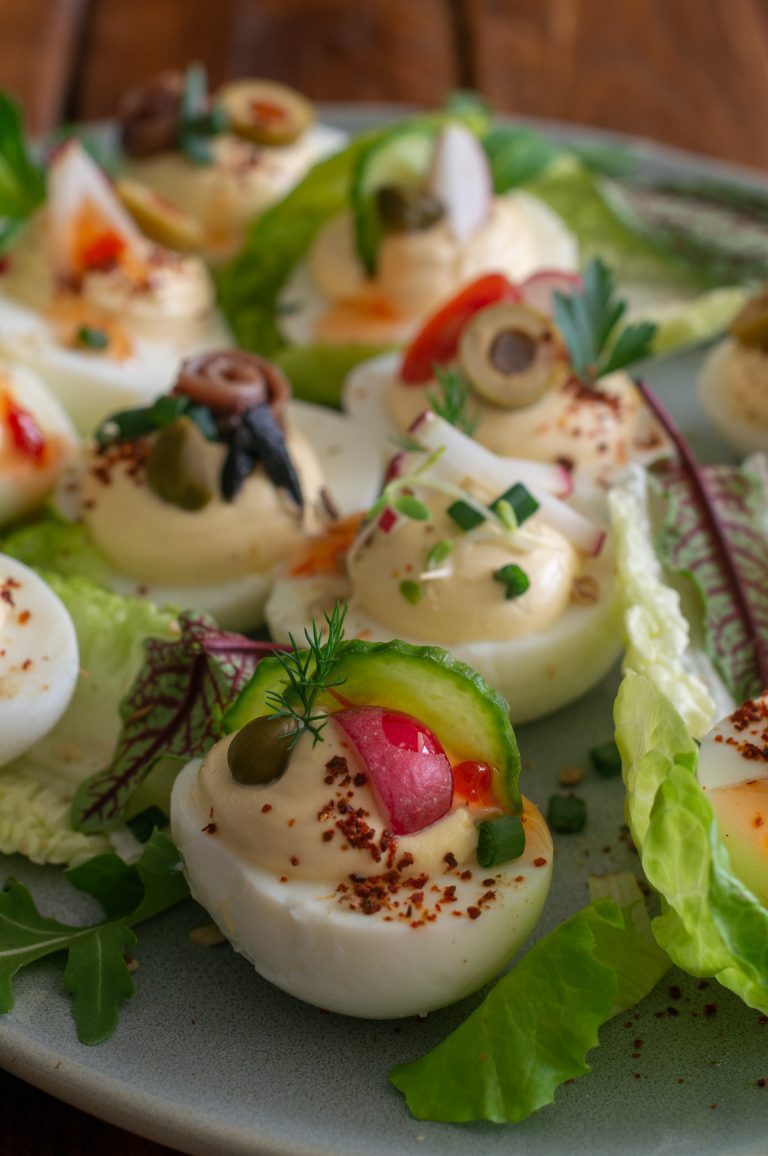 In addition to green salads during the Easter holidays, this recipe for stuffed eggs can also be an idea for an appetizer for dinner with friends or as a party bite.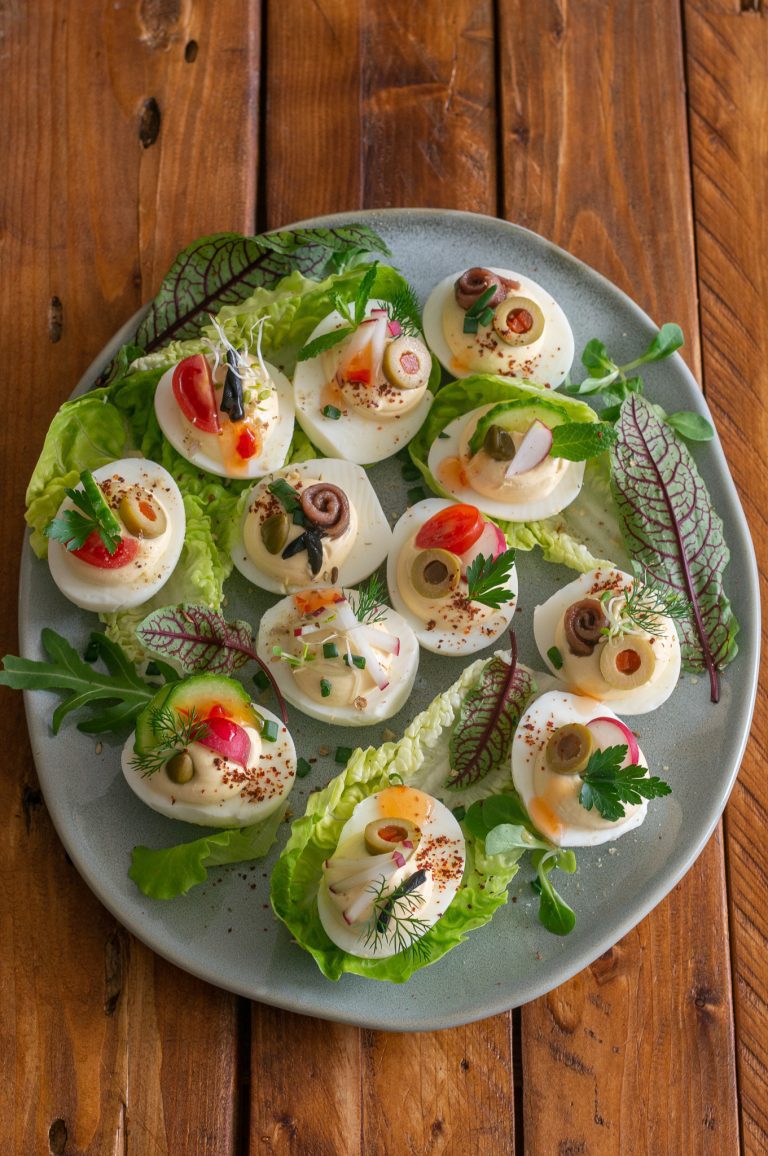 Stuffed eggs
For 4 servings.
For eggs:
6 large hard-boiled eggs

200 g cream cheese

100 g sour cream

1 teaspoon Dijon mustard

salt and freshly ground black pepper
Garnish options:
cucumbers cut into sticks, cubes or halved slices

radishes cut into sticks or quarters

cherry tomatoes, cut into quarters

capers

fresh onion feathers, chopped

olives, different types

anchovy fillets rolled into rolls

sprouts, different species

green leafy salads, shredded
Possible spices:
fresh green spices – parsley, dill, mint, mint

paprika – sweet or hot

hot sweet and sour sauce

duke

fermented black garlic

 , cut into thin strips
Preparation of eggs
Peel the eggs and cut them in half lengthwise. The yolks are separated and placed in a food processor. Cream cheese, sour cream and mustard are added to them. Season to taste with salt and freshly ground black pepper. Grind until a smooth cream is obtained, which fills the proteins.
A certain amount may remain from the filling. Store in the refrigerator for up to three days and can be used to spread on toast, crackers, sandwiches or as a dip for vegetables.
Serving
Arrange the stuffed eggs in a serving dish on green salads. From the options for garnish and seasoning you can choose and combine several, combine them to your liking and taste. Eggs are served immediately.